Published on 28/01/2022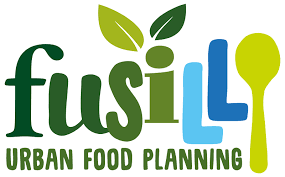 FUSILLI is a Food and Natural Resources project funded by the European Union's Horizon 2020 Research and Innovation Programme under Grant Agreement No.101000717. Over a duration of four years, FUSILLI will focus on supporting cities to facilitate their transition towards more sustainable food systems, in line with the FOOD2030 priorities. To achieve this goal, FUSILLI project combines the expertise of 34 partners from 13 countries, including cities, universities, SMEs, NGOs, and industries.
The core ambition of FUSILLI is to overcome barriers for developing and implementing integrated, systemic food policies that support the transition towards sustainable food systems in urban, peri-urban and nearby rural areas. To achieve this goal, FUSILLI puts 12 cities in a knowledge sharing and learning network to address the challenges of the food system transformation:
These cities will integrate food as a part of their urban-rural agenda and identify and create opportunities to transform food systems into sustainable, healthy and inclusive systems. Via an open knowledge community, cities will be empowered to implement innovative and personalized policies and actions, placing citizens in the heart of the process.
The foundation of FUSILLI will be the 12 Food 2030 Living Labs: Each city will develop a living lab as an open innovation ecosystem with the objective to implement different innovative actions through all stages of the food chain, including production and processing, distribution and logistics, consumption, food loss and waste, as well as governance. Through the FUSILLI Knowledge Community and supported through urban food plans, the partners will identify existing best practices and thus support participating living labs, related initiatives and policy makers in the development of sustainable food systems.
OBJECTIVES
At the core of FUSILLI are 12 Living Labs in 12 different cities, whose main objective it is to develop urban food plans within their local contexts to achieve an integrated and safe holistic transition towards healthy, sustainable, secure, inclusive and cost-efficient food systems. FUSILLI thus follows a multi-objective approach of implementing feasible and replicable innovative urban policies, which will lead to the improvement of actions in all stages of the food value chain, in line with the four priorities of the EU's FOOD2030 policy:
nutrition for sustainable and healthy diets,
climate-smart and environmentally sustainable food systems,
circularity and resource efficient food systems and
innovation and empowerment of communities.
The 12 FUSILLI Living Labs will implement different innovative actions across all stages of the food chain:
production and processing,
distribution and logistics,
consumption,
food loss and waste and
governance.
FUSILLI will not only include all relevant processes but also all kinds of actors (e.g. farmers, researchers, consumers), policy sectors (e.g. health, agriculture, environment), governance levels (e.g. local, national, global), and functionalities (e.g. healthy diets, access to food, employment, and cultural identity) in its research and policy efforts.
The Living Labs aim to identify best practices on food system transformation and to share them with the so called FUSILLI Knowledge Community (KC). Through close cooperation with other projects and fellow initiatives, the cities will be empowered as innovation agents for the development of long-term urban food planning throughout learning from each other about successful policies and actions.
The knowledge transfer will be based on an open and public digital platform as a repository to organise, document and share actions, initiatives, policies and impacts in relation to the targets associated with the FOOD2030 priorities. The goal is that this Knowledge Community will exist beyond the project lifetime and thus constitute a relevant foundation through close cooperation with other projects and fellow initiative for the extension of the knowledge sharing towards many other cities.
WINGS ROLE
The main role of WINGS in FUSILLI is to provide digital technologies and innovation for fostering the Urban food System Transformation. More specifically, WINGS will leverage the AGNES platform, in order to design, develop and validate in FUSILLI Living Labs the following innovations:
Knowledge platform on integrated urban food governance: Online platform, by coupling the learning questions to best practices and strategies to realize integrated urban food governance. This comprises an advanced search engine, in which the user types keywords of questions/challenges and the platform returns relevant results (and relevant documentation).
Gamification for behavioural change: Social game via a mobile application to foster the behavioural change, e.g. towards healthy sustainable diets and nutrition, responsible production and consumption in citizens.
Benchmarking tool for food system transformation: ICT platform and dashboard to monitor and evaluate a) the compliance of the current status of the city with existing policies, as well as new defined targets, b) the development and adoption of any transformative solution, like an identity card for the city in terms of being an agent of food system transformation.
Website:
FUSILLI | Urban food planning (fusilli-project.eu)

This project has received funding from the European Union's Horizon 2020 research and innovation programme under grant agreement No. 101000717.