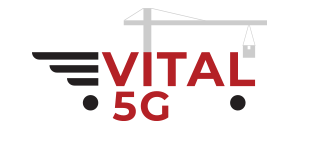 Vertical Innovations in Transport And Logistics over 5G experimentation facilities
About the project: Transportation is the movement of goods. Logistics is the management of the transportation of goods from the manufacturer to the end-user. Europe's transportation and logistics (T&L) sector is one of the main adopters of 5G. However, the successful transfer of 5G-empowered services from pilot stages to production hinges on the availability of flexible and intuitive tools for the design, management and orchestration of the services. The EU-funded VITAL-5G project will create an open, virtual and flexible experimentation facility, comprised of an intelligent virtual platform, three distributed European 5G testbeds and associated vertical infrastructure, to enable the testing and validation of T&L network applications in real-life conditions, using 5G connectivity.
WINGS Role: In VITAL-5G WINGS has the roles of Project Coordinator and WP leader. WINGS will perform the requirement analysis, relevant specification, development and integration of AI and ML functionality on the edge/cloud platforms to enable the "Automation & remote operation of freight logistics" use case implementation in the Athens experimentation facility. Moreover, WINGS will contribute to the KPI analysis related to the NetApps provision over the 5G.
Website: https://www.vital5g.eu/
Duration: 01.2021-12.2023

This project has received funding from the Horizon 2020 programme under grant agreement No 101016567